Find That Perfect Piece
Select the ceramic piece you would like to paint. All pieces are priced individually, the total price is your cost. Sit wherever you will be comfortable and take as long as you would like.
Designing Is So Much Fun!
Take time to plan your design. Visit our Idea Center where there are plenty of idea books, stencils, stamps, and sponges to use. You may lightly pencil on your design first as all pencil will burn away in the kiln.
Let's Make It Stand Out
Choose your paint colors at the Color Center. Pick the colors from the painted tiles and match the numbers with the numbers on the bottle in the racks. Bring bottles to your table.
Time To Paint
Pour a small amount of paint onto the plastic plates. Rinse the brush in the bowl of water when changing colors. You may use an unlimited number of colors and as much paint as you like but please pour out (nickel size) only as you need it. A little bit goes a long way!
Who's Is It?
Remember to paint your initials on the bottom of your piece, so you can identify it.
Almost Done
When finished, please put all paints away. Brushes, and plates can be washed in the sink. We reuse the plates. Leave your finished piece at your table. Most pottery will be fired and ready for pickup within approximately 4-7 days. See your receipt for exact date.
Officially Make It Yours
Payment is due on the same day as you paint. If you do not finish your piece, we can keep it for a short period of time. Shelf space is limited. Please write down your paint colors, so you can pick up where you left off when you return to finish your piece.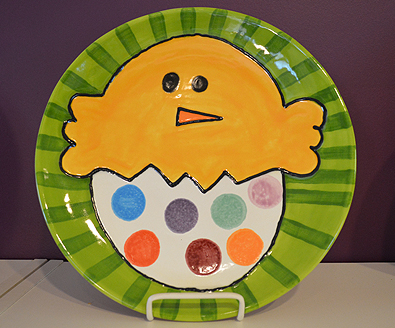 Any Questions?
Please ask if you have any questions or need help. We are here to assist you in any way. The pottery you create today will be treasured for a lifetime!
---
We Ship

 

Anywhere
If you come to Handz On Art from out of town and need your art shipped to you, that is no problem. We can ship you all of your pieces when they are done being fired in our kilns. You'll receive your pieces within a few weeks of painting.
There is simply a ~$25.00 flat fee, per house for shipping and packaging.